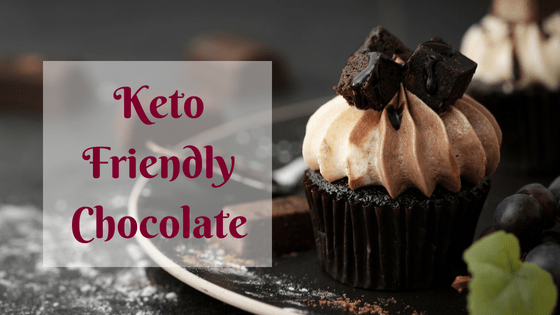 For those of us who have a sweet tooth, jumping into a low carb or keto diet can be brutal.
When we first started the keto diet a few years ago, there weren't that many keto friendly chocolate options available. As a result, we struggled to find alternatives to satiate our sugar cravings.
Additionally, we were looking for more naturally-sweetened options, such as keto friendly chocolate sweetened with stevia and monk fruit. That didn't exist… yet.
Fast forward to today and we are happy to report that the low carb chocolate landscape has improved drastically. There are now a plethora of amazing keto chocolate brands and below you will find a list of our favorites!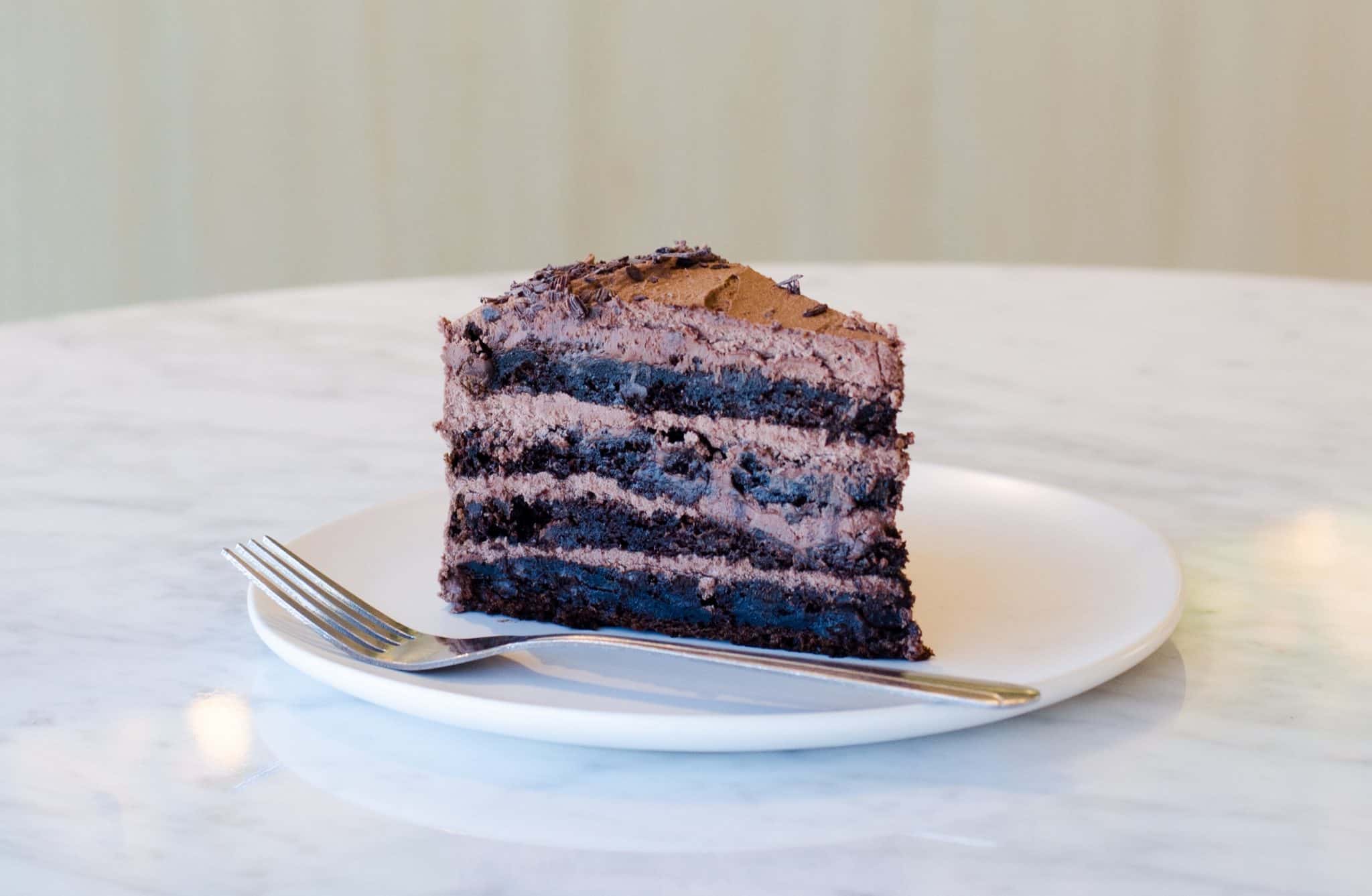 ---
Affiliate Note: When you click on some of the links on this page, we may receive a small kickback from Amazon, which in turn helps us keep the lights on. We greatly appreciate your support and hope you discover some awesome keto and low carb products from our site.
---
TOP Keto Friendly Chocolate Products & Low Carb Chocolate Brands
BARS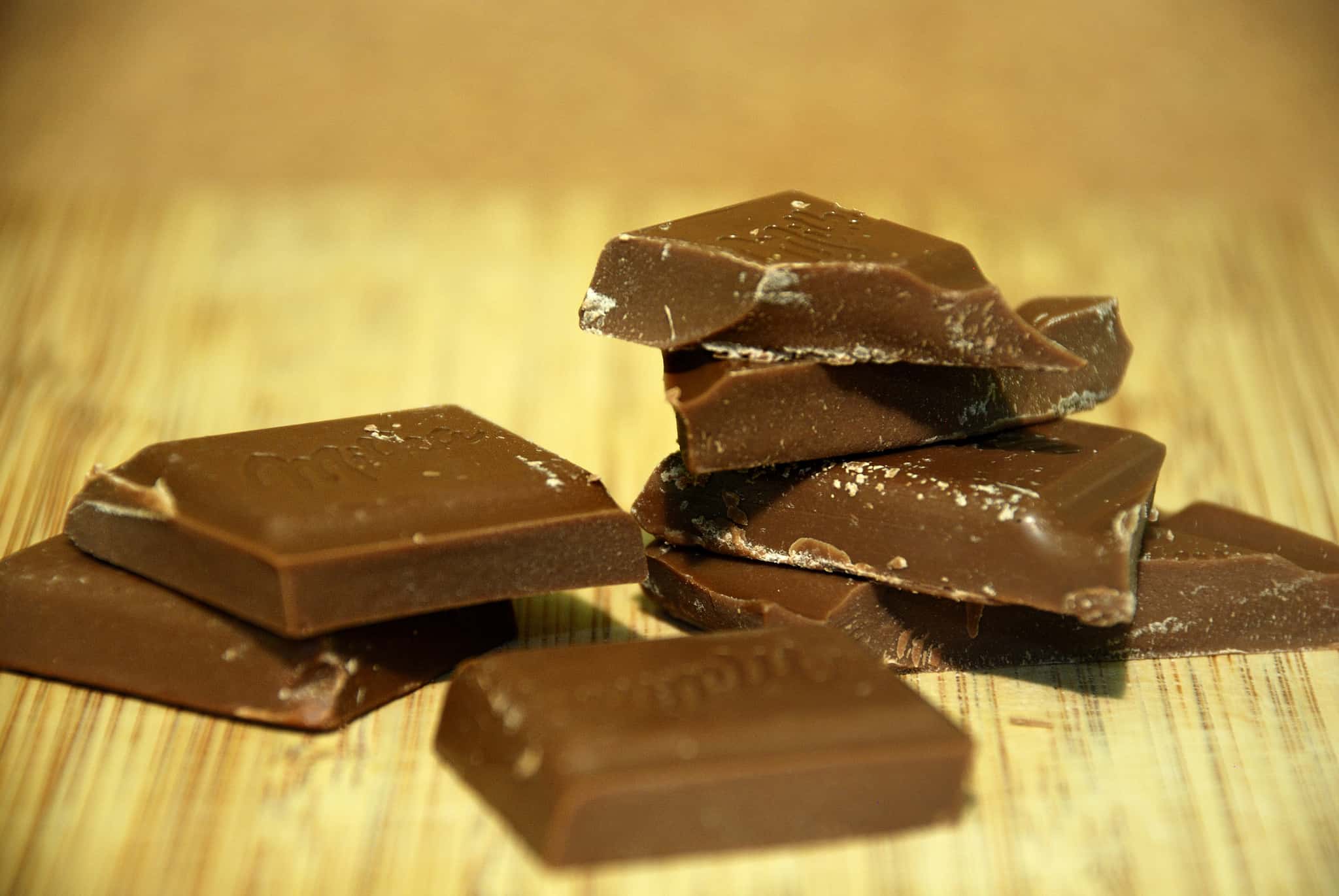 The Swiss know how to make chocolate and that goes for their keto friendly versions as well! Coming in at only 3g net carb per 1/3 of a bar this keto white chocolate is delicious! The majority of the chocolate is sweetened with lactitol (GI: 3) and inulin (GI:1) both low glycemic sugar substitutes.
It's creamy, decadent and great by itself or perfect for baking all your white chocolate favorites including white chocolate macadamia nut cookies and white chocolate covered strawberries!
Check out our full review here!
ChocZero is sweetened with monk fruit, a zero carb, zero sugar, zero glycemic index, plant-based sweetener, AND semi-sweet, low glycemic soluble corn fiber which helps tame the ultra sweet tasting sugar substitutes like monk fruit and stevia.
The best part is there is only around 1g net carb per chocolate square (10g). For reference, a standard Ghiradelli chocolate square is 15g in weight, so these are just slightly smaller.
As one of the best keto chocolate bar brands, we love all of ChocZero's products from their dark chocolate to milk chocolate bars, to their keto bark
!
What is a keto bark? It's a keto-friendly chocolate bar with bits and pieces of various nuts. Our favorite flavor is their Milk Chocolate. It's super creamy, and dare I say even better than its sugar-laden, carb-o-licious counterparts.
In fact, these keto bark varieties are amazing replacements for the following: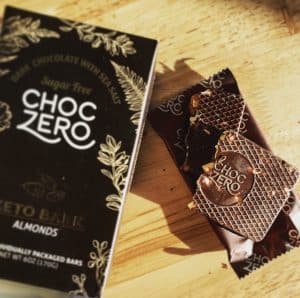 Note: ChocZero also sells other keto friendly products including syrups! Check out our reviews of our favorite syrups!
Lily's Chocolate has the most variety of flavors out of all keto friendly chocolate bars. They are sweetened with Stevia and Erythritol (both plant-based, zero carb/sugar sweetener). All their flavors are delicious with our favorites being Salted Almond & Milk AND Caramelized & Salted. Both of these flavors are made up of 40% chocolate.
Note that each chocolate bar varies in net carbs per serving. In order to calculate the total net carbs for these low carb chocolate bars, you take the total carbs – fiber – sugar alcohols = net carbs.
Milk Chocolate Varieties:
     3 net carb per 1/2 bar(40g)
Dark Chocolate Varieties:
     4g net carb per 1/2 bar(40g)
Lakanto Chocolate is sweetened by monk fruit and erythritol (plant-based sweeteners with zero carbs). The flavor of their chocolate has notes of cherry (at least that's what we taste). So, if you don't love cherry-flavored things, this chocolate isn't for you. There are three different flavors:
   6g net carb per 1/2 bar(40g)
Lakanto has a variety of other keto products including pancake mixes, syrups, sugar substitutes. All these products are delicious and definitely worth a try.
Simply Lite keto friendly chocolate is sweetened with maltitol, another type of sugar alternative. Some people report sensitivity to this particular sugar alcohol, so that's something to keep in mind. These bars come in three flavors:
   2g net carb per 1/2 bar(50g)
Candy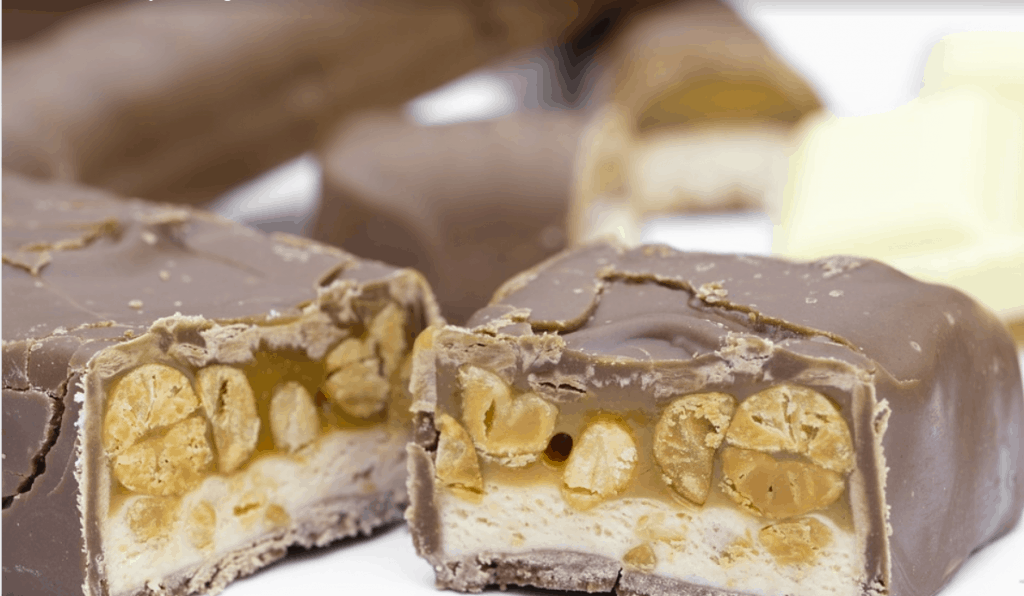 Tom and Jenny's now has a variety of flavors for their beloved keto friendly caramel  candies including:
Coffee, Caramel, Chocolate, Ginger, Spiced Rum
These caramel candies are sweetened with xylitol and maltitol, both sugar alcohols with reduced glycemic impact compared to sugar. There is around 4.5g of sugar alcohol per candy most of which will be coming from the maltitol.
These are around 1-2g net carbs per piece!
NOTE: We can't completely minus all the sugar alcohols from the total carb listed since maltitol and xylitol do not have glycemic indexes of 0 like stevia and erythritol. Maltitol is around 30 and Xylitol is around 13. For reference sugar is around 65.
Everyone knows and loves Reese's Peanut Butter Cups, however, it's one of the many sugar delights we give up on a low carb and keto diet. Luckily there are SUGAR-FREE versions of our favorite candy. The only disclaimer is the sugar alternative used is maltitol, which again can be tough for some to digest.
1g net carbs per 5 pieces(44g)
Atkins doesn't just specialize in low carb protein bars they also have keto friendly chocolate! They have a variety of candy options using maltitol or sucralose for sweetener. Once again if you are sensitive to these two substitute sweeteners make sure to take it easy.
Candy w/ 1g Net Carb 
Candy w/ 2g Net Carb
Candy w/ 3g Net Carb
Cookies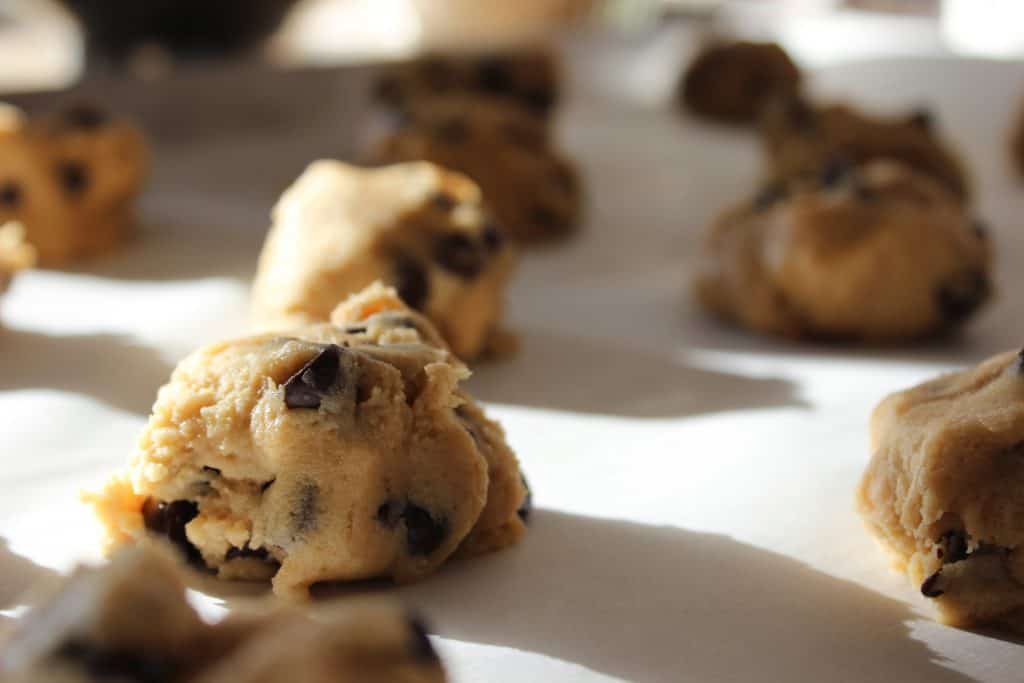 If you miss famous amos cookies you are in luck! HighKey snacks have created the perfect mini replica! These cookies need to be in everyone's pantry they are that good!
The perfect blend of salty, sweet, fatty and crunchy! Coming in at 2g net carb per serving or only 4g net carb for the whole bag!! Check out our full review on our favorite keto cookie post!
Fat Snax Chocolate Chip Cookies are the BEST keto friendly chocolate chip cookies out there! They are buttery and the texture is soft just like a chocolate chip cookie should be.
For those of you who have ever had Hostess Chocolate Chip Mini Muffins, the flavor and texture are extremely similar (which is a good thing). For more information about their chocolate chip cookies and their other flavors, check out our full review here.
  2g net carbs per cookie
If you've ever tried Quest protein bars
, then the Quest Protein Cookie
will seem very familiar. Looking at the ingredients, these are essentially cookie-shaped protein bars, BUT with the major addition of one great ingredient, butter. As in, the same buttercream you'd bake into grandma's cookies. That actually increases the fat content greatly for a "protein bar", up to 17g total (10g of which is saturated). This is a great way to hit your fat macros on keto!
The other thing that the buttercream does is it gives the cookie a more cookie-like texture than protein bars. The closest thing I can compare these to is the texture of Chips Ahoy chocolate chip cookies.
These also pack in 15g of protein per cookie. I will say you can still tell it's a protein bar base because there's that slight "protein bar" aftertaste. It really is slight though. And if you've ever eaten a Quest protein bar, you'll know what I'm talking about.
So, if you've been following along, we have this beautiful, beautiful stat line of 17g fat (10g saturated), 15g protein, and 4g net carbs per 59g cookie.
Wow! Talk about keto-friendly.
Nui, formerly Keto Kookie, makes a couple of chocolate-flavored cookies, including Chocolate Chip and Double Chocolate. These are only 2g net carbs per cookie and are sweetened primarily with erythritol.
These Nui cookies are great for the keto diet because they are a great source of fat from coconut oil, grass fed butter and heavy cream. These are absolutely one of the most keto-friendly chocolate chip cookie options!
Know Better Foods has such a great lineup of keto-friendly bread products. They also happen to have the Know Better Cookie
 that comes in several flavors. The great thing about these is they come in at only 4g net carb per cookie (and they are bready, so they're super filling).
You'll notice that the carb count seems higher, but the sweetness comes from allulose, which is another zero-impact sugar alternative. Like sugar alcohols, you subtract the allulose grams from the total carbs for the US Nutrition Facts label.
The big thing with these cookies is that the texture is not at all like a normal cookie. In fact, I like to think of them more as sweet bagels. With that being said, if you're looking for a morning bagel that you can slap some cream cheese on, this would be great! If you're looking for a classic cookie texture and taste, we'd go with the other options we've listed.
4g net carbs per cookie
Aunt Gussie's cookies are another sugar-free keto friendly chocolate alternative to chocolate chip cookies. The sugar substitute used in these cookies is maltitol, which people report sensitivity to, so keep that in mind.
These cookies are on the crunchy side so if you prefer soft baked textured cookies you should stick with Fat Snax Chocolate Chip Cookies or Quest Protein Cookies.  However, If you are on the other side of the spectrum and love crunchy cookies you should definitely put these on your keto friendly chocolate list.
They taste almost identical to any store-bought "NORMAL" chocolate chip cookie so definitely give them a try.
5g net carbs per cookie
Cakes/Brownies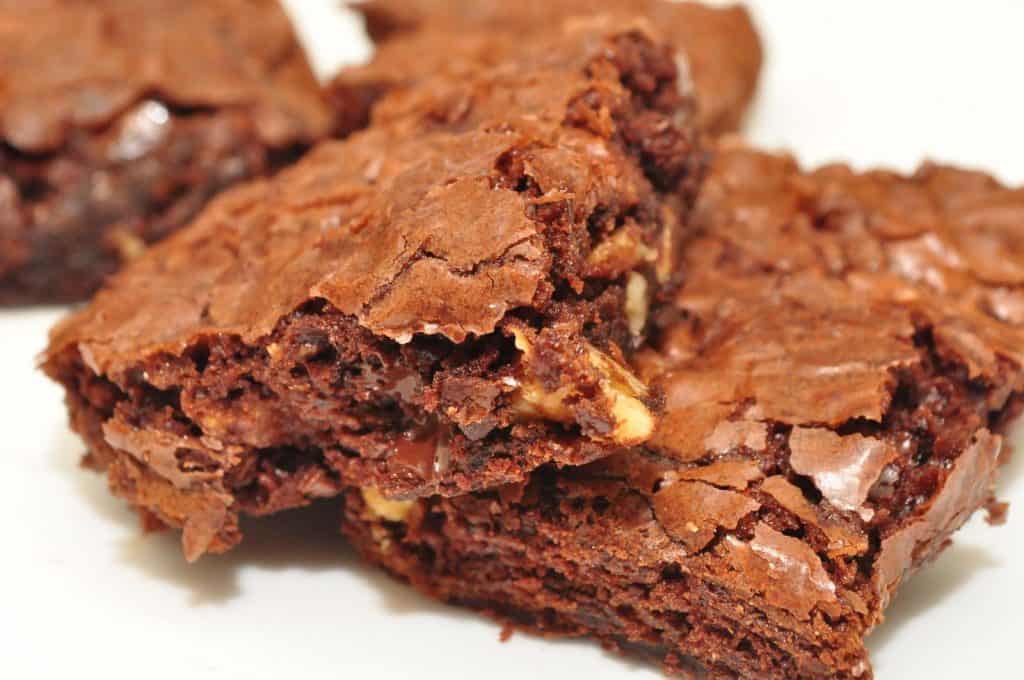 We found these guilt-free, keto chocolate cake bites at the beginning of our Keto Diet journey. It was literally a godsend! They are so good that even people who are not on a low carb or keto diet love them! We've introduced these to loads of people because we love them so much.
They are super decadent like you would find at your favorite artisan bakery. They remind us of low carb cake pops! Our favorite flavors are Sea Salt Caramel and Lemon
.
But the craziest thing about these is that they're made from GARBANZO BEANS!! Yes, you heard me right, GARBANZO BEANS! And garbanzo beans are very low on the glycemic index scale which is great for low carb dieters.
To make them sweet they use Birch Tree Xylitol, a type of natural sugar substitute.
There are a  variety of flavors available shipped to your door from Amazon for only fractionally more than they cost in stores. They are sold in 6-packs, but trust us, you won't have any problem getting through those boxes!
Sea Salt Caramel

4g net carb per cake bite

Lemon

2g net carbs per cake bite

Dark Chocolate

4g net carbs per cake bite

Dark Chocolate Raspberry

4g net carbs per cake bite

Mint Choc

olate

4g net carbs per cake bite
We give a more extensive review of the low carb cake bites here.
Chocolate Syrups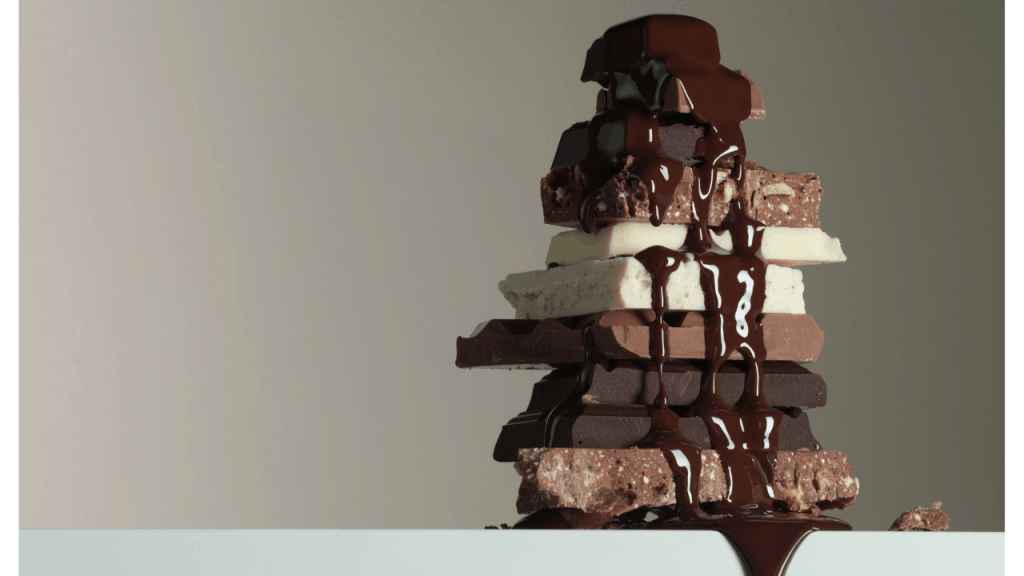 NuNaturals
is a low carb, sugar-free brand that does a great job on all of their sugar-free products. This is especially true for their chocolate
syrup which is 0g net carb per serving!
Their syrup has no hidden vegetable fibers (that can spike blood sugar) and instead uses both low glycemic sweeteners stevia and vegetable glycerin (a sugar alcohol) to sweeten its fair trade cocoa mixture.
The flavor is deliciously rich and chocolatey and the texture is true to a syrup consistency. We use this for all recipes that call for chocolate syrup. What's also great is a little goes a long way so it's easy to stick to a serving.
Looking for your beloved pre-keto day brands? Hershey's does have a keto friendly chocolate syrup that uses keto friendly sweeteners erythritol and sucralose both low glycemic sweeteners. It also includes a good amount of fillers and gums. It comes in around 1g net carb per serving.
As far as flavor goes the taste focuses more on sweetness (and not so much on the chocolate) so this would be more for mixing into drinks.
Thanh
Thanh has a keen interest in diet and holistic health. To that end, he has earned a B.S. in Biology and a M.S. in Biochemistry and Molecular Biology. But above all, his interest lies in food. Yummy, yummy food... which he studies all day, every day.
Related posts
Howdy!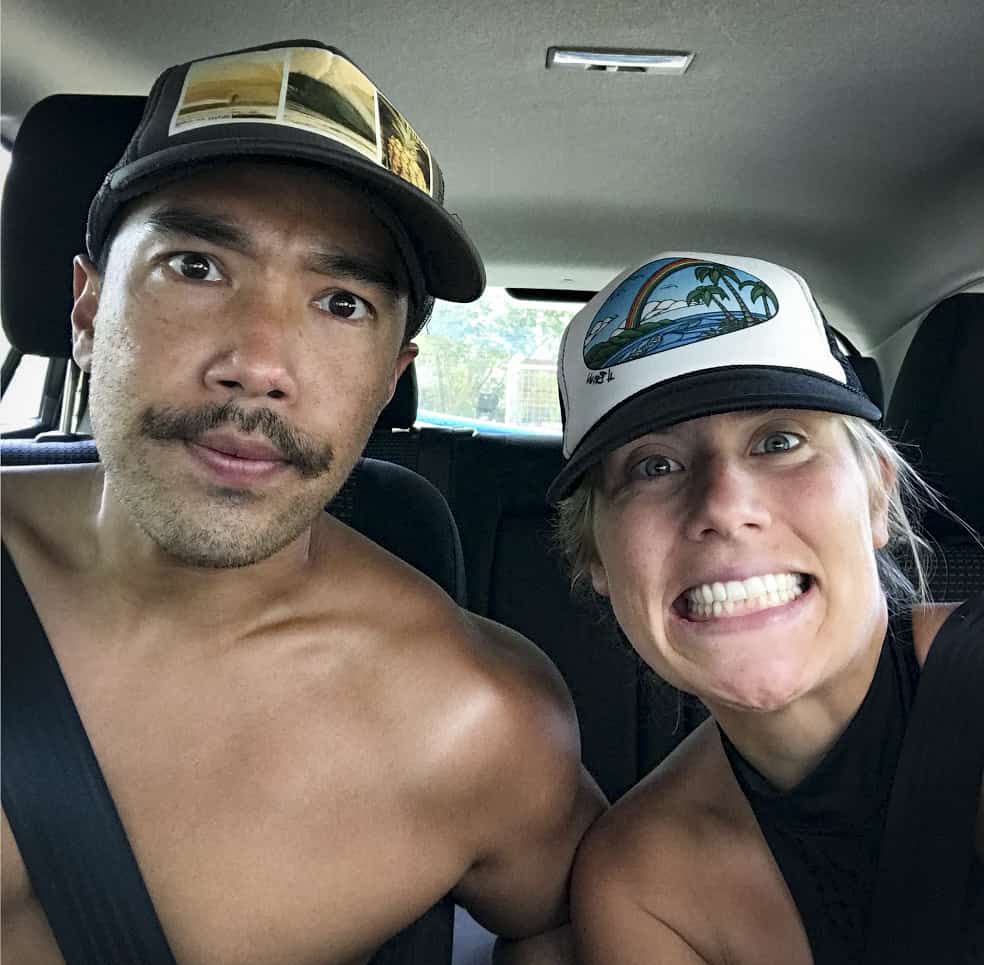 Sonja & Thanh: foodies at heart, globetrotters and avid discoverers of keto, low carb and organic products. Based out of Austin, Texas, we scour the world for food options that fit our healthy, active lifestyles.
Learn more
Subscribe to get the Latest