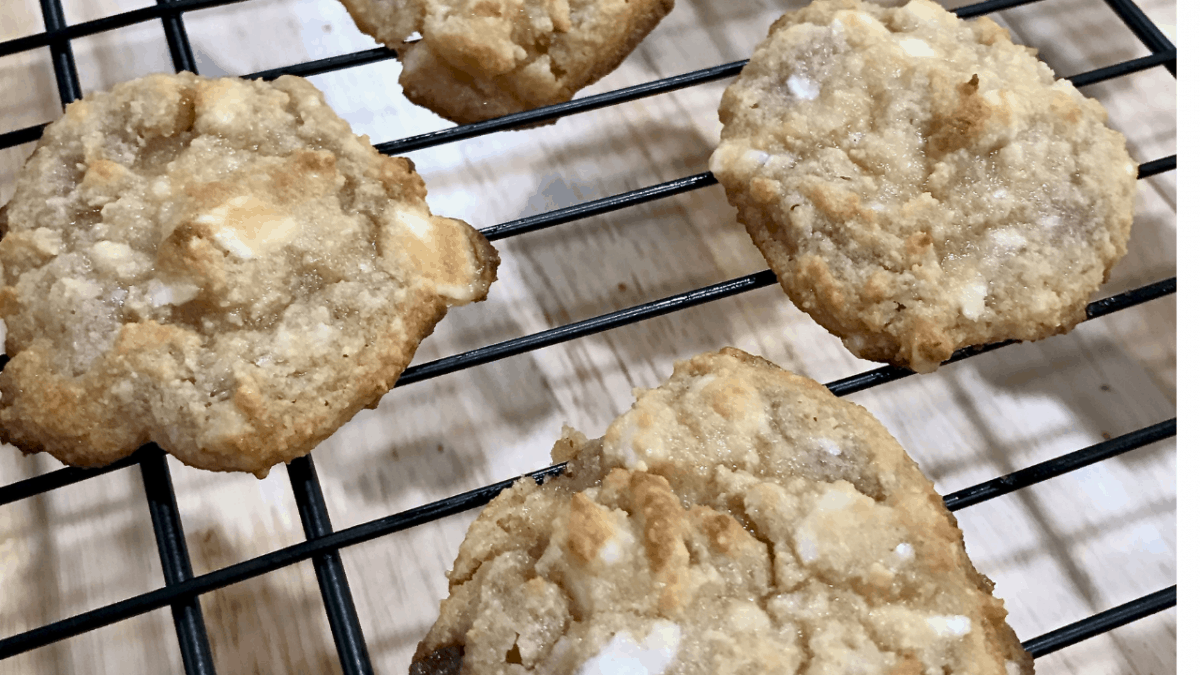 One the absolutely most decadent cookies out there is the white chocolate macadamia nut cookie. Rich white chocolate combined with pieces of sumptuous macadamia nuts in a cookie. Is it possible that we could make a healthy version? As in, keto white chocolate macadamia nut cookies?
Let's take a look at some of the key ingredients in this low carb white chocolate macadamia nut cookie recipe.
Macadamia Nuts
Well, macadamia nuts are actually one of the most keto-friendly nuts out there. That's because they are high in fat and low in carbs. They provide that rich nuttiness to the cookie that makes it unique.
Also, they are one of the nuts with the lowest omega-6 PUFA content and consequently one of the highest MUFA content. That's great for keto diets, where most people ingest a disproportionate amount of PUFAs from nuts.
You will want to use raw unsalted macadamia nuts cut into halves/pieces (like this one), which work better for these cookies. Whole macadamia nuts tend to be too big for the cookies.
White Chocolate
How about keto white chocolate? There is low carb white chocolate out there, and it's absolutely delicious. Since there is a ton of white chocolate flavor in the actual cookies, it's critical that you start with a good keto white chocolate.
Chocolat Stella's white chocolate is absolutely perfect for this application. And, since you can buy it online, there's no need for homemade white chocolate in this recipe! Making this recipe that much easier.
Almond Flour
We replace the typical white flour with almond flour, which is a great low carb alternative. The nuttiness of the almond flour complements the rest of the ingredients perfectly.
Because almond flour also contains fat, it lends to a richer-tasting cookie. Note that because of this fat content, we reduce the amount of butter in the recipe accordingly. This ensures the cookies stay together.
Also, the almond flour actually imparts a bit of the almond flavor into the cookie, which is a bonus. This additional subtle almond flavor works perfectly for these keto nut cookies.
Note that we don't use coconut flour because we don't believe that flavor works here. Still, using almond flour makes these gluten-free white chocolate macadamia nut cookies.
Sugar
You need both brown sugar and white sugar for macadamia nut cookies. In our recipe we use Swerve Brown Sweetener since it has a similar taste and texture to brown sugar. It's awesome stuff that even feels and packs like brown sugar.
For the white sugar substitute, we use Sola Sweetener, which is a proprietary blend of super low glycemic ingredients. It is a true one-to-one replacement for white sugar. Taste and texture!
It's important to use Sola here because normal erythritol will result in the cookies being too sweet and have too much of a "cooling" effect on the palette. Even more important is that Sola browns when cooked down, meaning it lends to some gooey caramel flavor which takes the cookie flavor to the next level.
Don't make this recipe without it!
The Keto White Chocolate Macadamia Nut Cookies Recipe
We make these cookies all the time and absolutely love them. We are so excited for you to try them. Enjoy and please let us know what you think!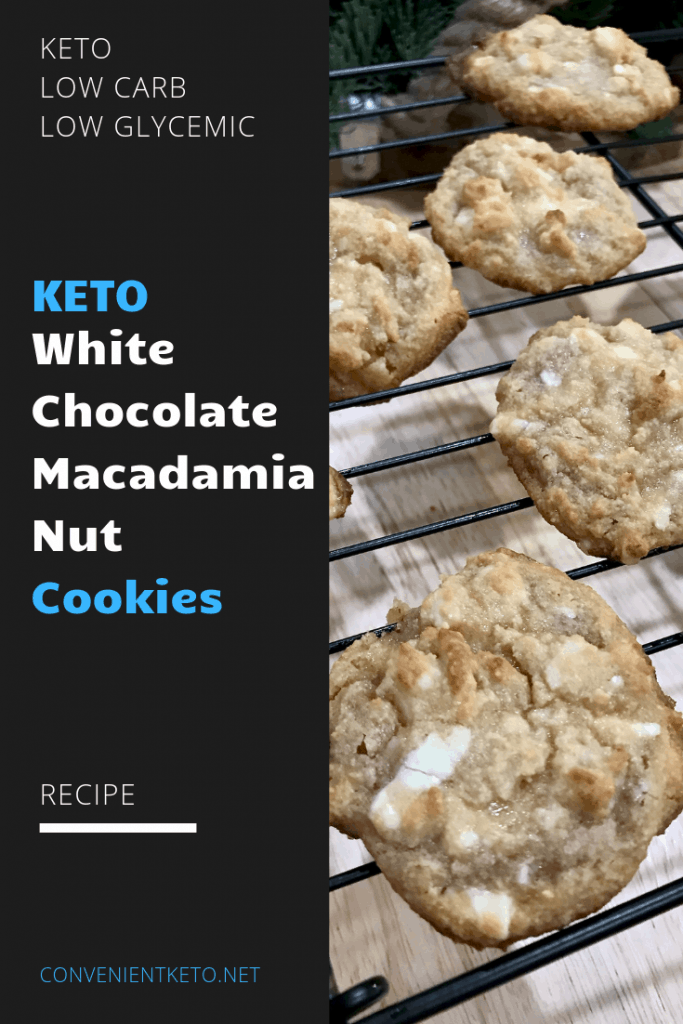 Related Recipe: Like cookies? You might like our Keto German Chocolate Cake Recipe too.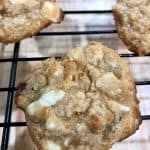 Print Recipe
Keto White Chocolate Macadamia Nut Cookies
The best and easiest keto white chocolate macadamia nut cookies! Deliciously rich, soft and crunchy all at the same time!
Cooling Cookie Time
8
mins
Keyword:
keto cookies, keto white chocolate, keto white chocolate macadamia nut cookies
Servings:
6
Dozen Cookies
Ingredients
1/2

cup

Unsalted Butter (softened, not melted)

1 stick = 1/2 cup

3/4

cup

Swerve Brown Sugar

1/2

cup

Sola White Sugar Substitute

(If you use a different keto sugar substitute the amount will change)

2

Eggs

1

teaspoon

Vanilla

2 1/2

cups

Almond Flour

1/2

teaspoon

Salt

1

teaspoon

Baking Soda

1

cup

Macadamia Nuts (Chopped)

1

cup

Keto White Chocolate - Chocolat Stella (Chopped)
Equipment
Parchment Paper

Multiple Cookie Sheets
Instructions
Preheat oven to 350 degrees.

In a large bowl, cream together the butter, brown sugar, and white sugar until smooth.

Beat in the eggs to sugar mixture, one at a time.


Stir in the vanilla to sugar mixture.


Combine the flour, baking soda, and salt.

Gradually stir flour mixture into the sugar mixture.


Mix in the macadamia nuts and white chocolate.

Put parchment paper on cookie sheet.

Using a TEASPOON scoop a heaping amount of cookie dough mixture (the ball should be about the size of a quarter in circumference) and place on a parchment paper-lined baking sheet.


Bake cookies for 9:00 - 9:30 minutes depending on oven. (See Recipe notes for after baking instructions). Cookies should be a darker golden brown out of the oven.
Notes
VERY IMPORTANT! Bake your cookies on parchment paper and then after they are done baking lift the parchment paper carefully (with cookies still on it) over to a cooling rack. Let them stay on the parchment paper until cooled then spatula them onto newspaper or another form of paper to absorb extra fat. (We usually keep them on the parchment paper until the next batch is about done they are usually ready to easily be moved with a spatula to the paper)  Sugar Alcohol - 1.375g per cookie!
Thanh
Thanh has a keen interest in diet and holistic health. To that end, he has earned a B.S. in Biology and a M.S. in Biochemistry and Molecular Biology. But above all, his interest lies in food. Yummy, yummy food... which he studies all day, every day.
Related posts
Howdy!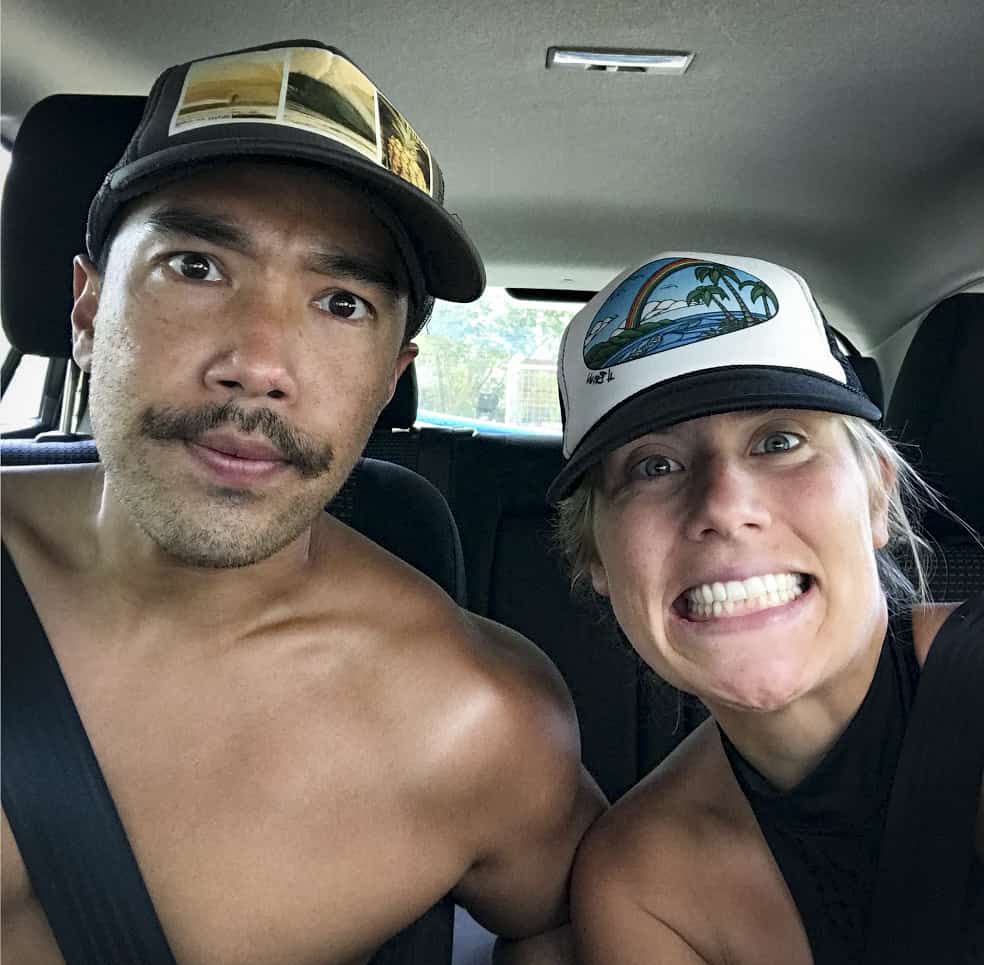 Sonja & Thanh: foodies at heart, globetrotters and avid discoverers of keto, low carb and organic products. Based out of Austin, Texas, we scour the world for food options that fit our healthy, active lifestyles.
Learn more
Subscribe to get the Latest